Build YOUR OWN forwarders network
Parnity is a collaborative platform, designed for your company to manage current forwarders
partners, find new ones and analyze your partnership's quality
1
Upload your existing partners
2
easily find new forwarders
3
collaborate with the whole company
4
analyze the partnerships quality
CRM to manage your forwarder partners
encrypted data
Only visible for your company
MyNetwork allows you to gather your existing and new partners in one single place.
Sign Up Free
Your logistics network simplified
Find a new forwarder in two clicks, in our 10,000 forwarders database.
Our A.I-powered search works on showing Parnity's results ordered by the strongest profiles that match the search criteria.
How much does it cost?
Parnity is always going to be
free to join

.

Tools that we have today and will always be free:
We
have big plans
We have big plans
Therefore we'll keep improving Parnity with new solutions to solve all partnering touchpoints between forwarders and we'll charge for some of the new tools - but you will be able to choose if you want the paid tools, or to keep the FREE ones.
Customize your company profile
Customize your profile to make it strong enough to communicate all the important info about your company. Show your expertise and highlight your differential as a partner.
Key Contacts
Share the right contacts to receive quotes and provide great partner experience by sending and receiving quotes FASTER!
Trust Score
The profile shows how many companies have added you to their MyNetwork. That's the community saying who are the most trustful partners.
Cases
You can upload videos, photos and customer feedback as a way to show your quality.
Structure
Add pictures of your offices and structure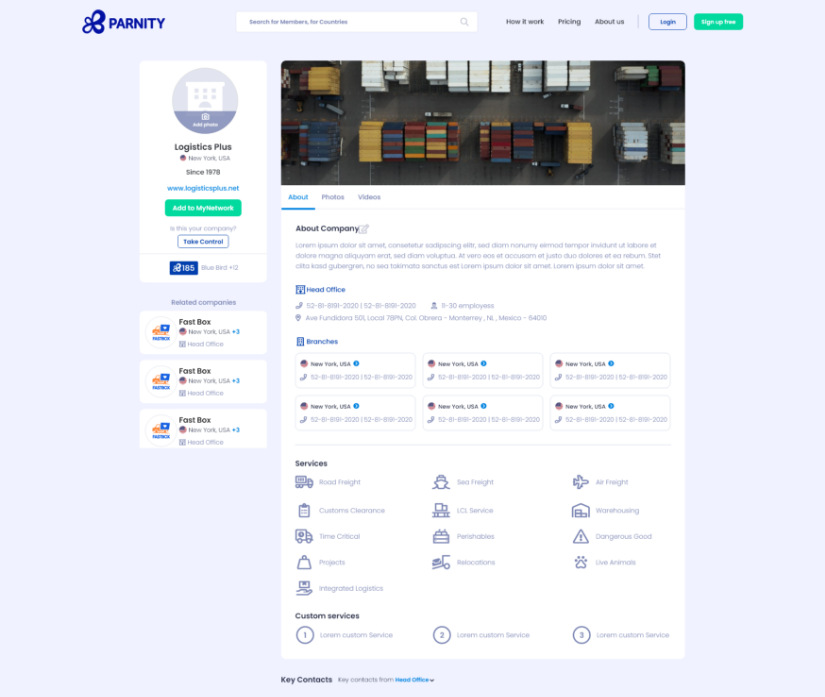 What's Parnity and Why is it free to join?
Parnity is a collaborative platform, designed for your company to manage current forwarders partners, find new ones and analyze your partnership's quality.
Parnity does not own the information of the companies listed here, so why should we charge for it?
We believe that when the community unites, all people benefit together!
So, what can I do in Parnity?
MANAGE my partners through our CRM
FIND new forwarders in two clicks through our AI-powered search
ANALYZE my partnerships quality